Family Spa
Ayurvedic, Thai and Swiss Exotic therapies with luxe decor ambience that pampers your well-ness dreams. At this retreat we provide customised holistic healing for the mind and the body in luxurious environ. This is equipped with Ayurveda massage, Medicated Oil-Hot water (total time 45 mts.), Ayurvedic Royal massage, Herbal Oil massage (45 mts.) Herbal steam bath, Head massage, Foot massage, Pizhichil (per day), Jacuzzi.
Kalari Uzhichil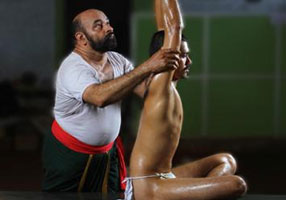 It is one of the preparatory treatments for Pancha Karma. The patient has to sit on a chair in a comfortable position for a gentle head massage. A Special shoulder and spine massage will be done in specific pressure. Then the patient has to lie down in the table in a comfortable relaxed position and the therapist will start full body massage in a rhythmic manner.
The special massage takes away the stiffness of the body and makes the body flexible and relaxed. This method strengthens the tissues and promotes biological fire and longevity, regenerating and rejuvenating the body. It is especially good for nervous disorder.
Swedana (the steam bath)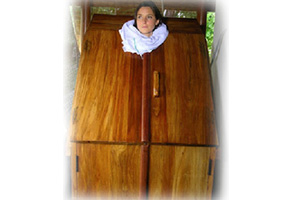 The treatmentfound in ayurveda date back thousand s of years and swedana is no exception.In this treatment you sit for 15 minutes in a herb infused steam box.The use of heat and steam to encourage sweating has long been recognized as a natural and effective way to encourage the process of detoxification. The special herb helps to stimulate oxygen flow throughout the body, while steam activates the natural sweating process, which is essential for releasing accumulated toxins. Your skin will carry the gentle sweet aroma of the herbs throughout the following 24 hours or so.
Benefits : Softens and brightens the skin stimulates and increases digestion capacity, reduces laziness and fatigue, helps to ease stiff joints.
Shiatsu Massage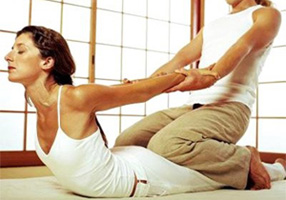 Shiatsu in Japan derives from fingure and pressure.Shiatsu massage uses a range of contact technics such as tapping, squeezing and rubbing to stimulate healing in the recipient.Shiatsu massage techniques are similar to Thai massage.Shiatsu practioners use their fingers and thumbs, may also their knuckles, elbows, knees or even their feet to apply pressure to the area being worked on.
Recipients some times experience benefits that go beyond the physical.Some people report immense emotional reactions, during the treatment.Reactions like crying, laughing, feeling of intense relief or deep peace.
Shiatsu massage is best known for its stress related ailments, headaches, backaches, and generel muscle tension, respiratory ailments such as asthma, digestive complaints, and chronic conditions like Artritis may be targetted.
Deep Tissue (sports massage)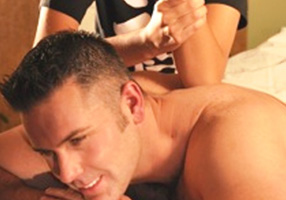 Therapists may use their fingertips, knuckles, hands, elbowsand forearms during the deep tissue massage.
You may asked to breath deeply as the therapists works on certain tense areas.Deep tissue massage usually focuses on a specific problems such as chronic muscle pain, injury rehabilitation and the following conditions : chronic pain, lower back pain, limited mobility, recovery from injuries (eg: whiplash, falls, sports injury) postural problems, Tennis elbow,muscle tension or spasm after a workout or body building, quadriceps, rhomboids, upper back.
Balinese Massage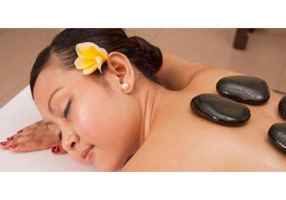 Balineese massage techniques work to soothe damagedtissue, and relieve strained muscle and joint pain.The boost to your circulation will help reduce stress and rebalance your body.
Expect the therapist to use "quite deep" pressure during the massage inorder to work on deep knotted tissue and muscle damage. you feel relaxed, refreshed and reenergised after the massage.You will probably smell fantastic after all those essential oils.
Swedish Massage
The best known type body work performed today.The swedish massage technique is to relax the entire body, accomplished by rubbing the muscles with long gliding strokes in the direection of blood returning to the heart.Benificial for increasing the level of oxygen in the blood and decreases the level of stress hormone.
Thai Massage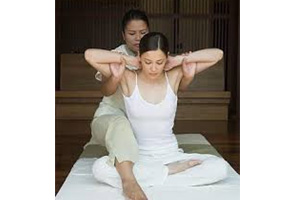 Thai massaage is believed to have been developed by "JIVAKA KUMAR BHACHA" physician to Budha, more than 2500 years ago in India.It made the way to Thailand, where ayurveda techniques and principles gradually became influenced by traditional chinese medicine.For centuries Thai massage was performed by monks as one component of Thai medicine.
Thai massage is also called Thai yoga massage, because the therapist uses his /her hands, knees,legs and feet to move you in a series of yoga like streches.Many people say Thai massage is like doing yoga without any work many people finds that the massage has the following benefits : improves circulation, increases energy, increases flexibility, improves range of motion, centers the mind and body.
Relaxation Massage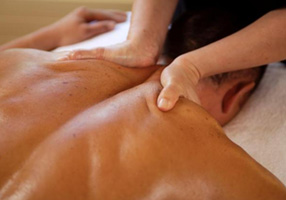 Relaxation massage is essentially same as gentle swedish massage, that uses smooth gliding strokes. The primary purpose will be to help you relax ,and the massage therapist probably move at a slower pace and uses light pressure. During relaxation massage, there is less emphasis of working out serious adhesions or knots in the muscle tissue. Some times people even fall asleep during a relaxation massage.
The health benifits are : Calming the - nervous system, promoting a sense of well being, improving blood circulation and stimulating the body's lymphatic system which carries away waste products.
Reflexology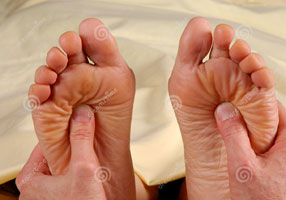 Reflexology is also known as zone therapy as it is based on the technique of applying pressure to various reflex areas known as the zones.It is a kind of massage that is done without using any lotion or massage oil. During the therapy pressure is applied to hands feet or ears using thumb finger or some specific hand techniques.There are total ten vertical zones, in which human body is divided by the reflexologists.
Usually people experience the benifits from reflexology immeadiatly.Reduces stress, stimulates the nerve function, improved blood circulation, improved immune power, aids digestion ,eases pregnacy and delivery, increase in energy level, helps post operative recovery, releives pain
Hawaian Lomi Lomi Massage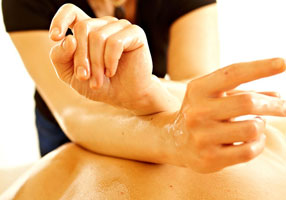 Lomi Lomi is a trsditional Polynesian technique that bears repeating.That is because the term lomi lomi means massage.Lomi lomi massage therapy practitioners utilize varying techniques and materials including long fluid strokes of forearm and hands, volcanic rocks native plant leaves, emphasizing the mind body connection lomi lomi massage treatments affect the recipient on physical, emotional, mental,and spiritual levels.
Benifits includes improved circulation and immune response, increase range of motio & flexibility, lowers blood pressure and slows heart rate improves posture and speeds healing.
Indian Head Massage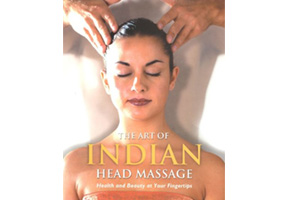 The only head massage style which is internationally accepted. The indian head massage boosts the flow of blood through the cells in the scalp and head helping to improve hair condition and making it stronger.Getting a head massage is one of the best ways to reduce every days stress and anxiety, helps to relieve head ache, prevents hair fall, activates blood circulation in different parts of the body, aids quick &sound sleep.